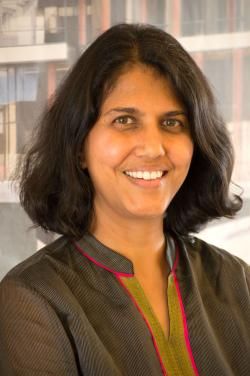 Mini Kahlon
Vice Dean of Strategy and Partnerships, Dell Medical School
Mini Kahlon enables innovation across the Dell Medical School enterprise to build a new model for academic medicine as a driver of health transformation. Working across the organization, her office identifies opportunities to catalyze change; introduce, align and kick off new initiatives; drive new models of dissemination and commercialization; advance health product innovation; and enable technology-driven transformation. More broadly, Mini works with public, private and academic partners to build a vital inclusive health ecosystem. In 2016, the Austin Chamber of Commerce selected Mini to serve on the Executive Committee of their Board of Directors as the Vice-Chair of MedTech Innovation. She also serves on the board of directors of the University Federal Credit Union.
Prior to joining the medical school, Mini was Executive Director and Chief Information Officer for the Clinical and Translational Science Institute (CTSI) at the University of California, San Francisco (UCSF). With cumulative funding of more than $200 million, CTSI at UCSF is one of the largest awardees of the Clinical & Translational Science Awards (CTSA) from the National Institutes of Health (NIH). The institute functioned as an innovation arm of UCSF, addressing opportunities and challenges in all aspects of research from early translational product-focused research to health care delivery redesign. At CTSI, she led national initiatives focused on health information technology; statewide initiatives to accelerate research and aggregate data from across the University of California system; and multi-partner grants funded by the NIH, National Science Foundation (NSF) and Patient-Centered Outcomes Research Institute (PCORI) that used data and technology to improve research and health.
Mini also brings management experience from Silicon Valley startups working on award-winning software and technologies, as well as the philanthropic social change sector where she worked to improve education. She is a City of San Francisco honoree for her volunteer efforts and has received awards for technology innovation in health in addition to having her work highlighted in the San Francisco Chronicle and Businessweek. Mini is a graduate of Bryn Mawr College and received her PhD in Neuroscience from UCSF.