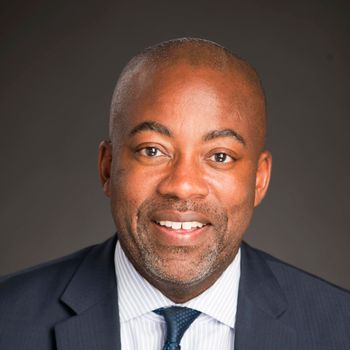 Leonard N. Moore, Ph.D.
Vice President Division of Diversity and Community Engagement, The University of Texas at Austin
Leonard N. Moore, Ph.D. is currently the Interim Vice President for Diversity and Community Engagement and the George Littlefield Professor of American History at The University of Texas at Austin. He is a native of Cleveland, Ohio, earning his B.A. from Jackson State University in 1993 and his Ph.D. from The Ohio State University in 1998. He was a history professor at Louisiana State University from 1998-2007, where he also directed the African and African American Studies Program and the Pre-Doctoral Scholar's Institute. He has been at The University of Texas at Austin since 2007. At UT Austin he teaches a class on the black power movement and a signature course titled Race in the Age of Trump. In the fall semester he teaches more than 1,000 students across both courses. His innovative, unique, and engaging teaching style were featured as a cover story in the September/October 2015 edition of the Alcalde, the alumni magazine of UT Austin, and parents, alumni, and community members often visit his classes after reading the article. He has received a number of teaching awards including the Jean Holloway Award for Excellence in Teaching and the John Warfield Teaching Award. Dr. Moore also directs study abroad programs in Beijing and Cape Town, and both programs have become national models for diversifying global education. He is the author of two books on black politics and his third book, The Defeat of Black Power: Civil Rights and the National Black Political Convention of 1972, will be published in early 2018. He is currently working on a biography of Adam Clayton Powell, Jr., the controversial pastor, congressman, and civil rights leader. Dr. Moore is also active in the Austin community and currently serves as Chairman of the Board for the Austin Area Urban League.